Irvine Divorce Attorney
The dissolution of a marriage can be a complicated, confusing legal process. On top of navigating complex emotions and changes in your daily life, you will also have to learn about lengthy legal procedures. To simplify this process for yourself and make sure that your interests are represented in this difficult time, you should get in touch with an Irvine divorce lawyer.
The Goldberg Legal Group has the experience you are looking for when you need a divorce attorney to guide you through the complicated and sensitive process. In all divorce cases, we provide our clients with caring and comprehensive legal representation when they must face the realities of divorce and understand how their lives will develop going forward.
We will always have your best interests and protect your rights because we understand that the entire divorce proceeding can be a traumatic, stressful, and difficult life event. We are committed to providing you with the legal services you need.
Call our Irvine family law attorneys to set up an initial consultation to discuss your case and help you understand the best way to proceed.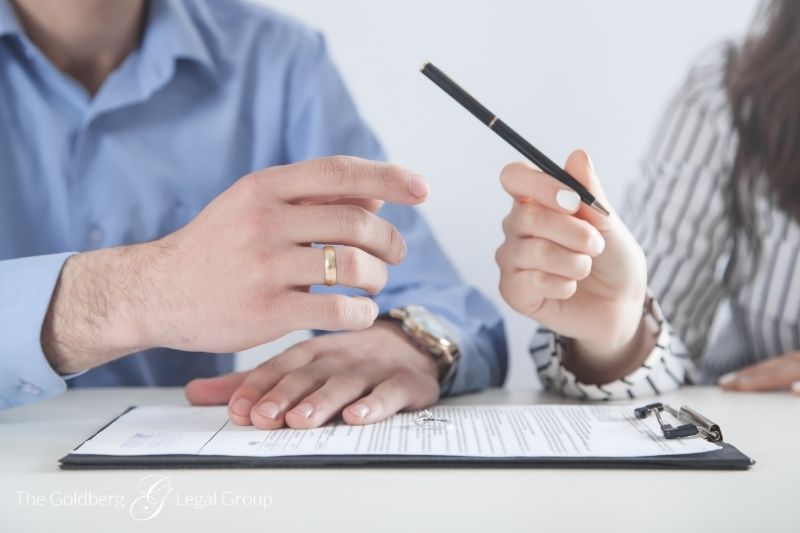 Grounds for Divorce in Irvine
If you are looking to get a divorce or a legal separation in Irvine, California, you can file for it based on these grounds: 
Irreconcilable differences that have resulted in the breakdown of the marriage
Permanent legal incapacity to make decisions. If you want to take this route, you must show proof that your spouse lacks the legal capacity to make decisions when the petition is filed. Proof must come in the form of testimony from a psychiatrist or medical professional.
Steps Needed to File for Divorce
Every state has its own rules governing divorce. If you want to file for divorce in Irvine, California, then you will have to familiarize yourself with the state's rules and regulations for dissolving your marriage. Your Irvine divorce lawyers will guide you through the steps needed to obtain a divorce which may include: 
Establishing residency requirements in the state of California.
Presenting the grounds to end the marriage.
Filing the divorce papers and having them served on your spouse.
If your spouse disagrees with the divorce papers, they will have an opportunity to file a response to dissolution papers explaining their areas of disagreement. This is also known as a contested divorce. When this happens, you may have to attend one or more court hearings to resolve each family law issue on which you disagree. If you are going through a contested divorce, it is critically important that you hire legal representation, as your spouse has likely done so themselves.
If a certain time has passed without a response to the dissolution, you may be able to proceed by a default judgment since the matter is an uncontested divorce. Your lawyer will explain the timelines and waiting period to see if there is a filed answer from your spouse before you can continue to proceed with the divorce.
When there is property to be divided, or if one party will end up needing financial support, these items will have to be worked out in an out-of-court settlement or during several family law court hearings. Your attorney can represent you during these negotiations, and their knowledge of the law can help you obtain a better resolution than you would have otherwise.
An out-of-court settlement can avoid the expenses of going to court, but they often require the parties to be open to compromise and discussion. If that is not possible, then a court trial will be necessary. The persuasive skills of a family law attorney can be especially vital in these situations.
When children are involved, divorce can get even more complex. You can expect that child custody and child support will also be considered part of the divorce, but you can rely on your experienced family lawyer to assist you through this time. In addition, if you find yourself having child support issues, such as the need to enforce an order that has already been drawn up, you should contact a child support attorney to help you get the funds you are entitled to.
Spousal Support
Alimony or spousal support is financial support paid by one spouse to the other according to family law. It is not a punishment to one party but rather a way for the spouse that has a lower income to take a reasonable period to become self-supporting. This time period is a family law matter related to the length of the marriage.
In general, marriages that lasted less than ten years are considered short-term marriages and would qualify for alimony for approximately half the length of the marriage or less. A marriage of over ten years would qualify for at least half the length of the marriage or more. The indications of the amount of time may be flexible to each particular case. However, the judge will have the final say on the length of time and may decide to support either a shorter or longer period for spousal support.
Factors to Consider for Alimony Awards
Every separating couple has a unique financial situation, and you can expect that your spousal support arrangement will also be unique. There are several factors a judge will consider when granting alimony awards. These include: 
The earning capacity of the spouses – They will look at your marketable skills, the job market that exists for your job skills, whether you would require training to develop new skills, and the present and future earning capacity of each party.
The judge will look at whether each of you can maintain the marital standard of living that you enjoyed while married and determine the needs of each party.
Whether one party contributed to the training and education of the other.
Whether the higher-earning spouse can pay alimony.
The length of the marriage.
The age and health of each spouse.
Any tax consequences.
Whether there was a history of domestic violence. Whether the person requesting alimony has ever been convicted or charged with a misdemeanor for domestic violence. Any other family law factors that the judge considers material and just.
Child Custody
When you are going through a divorce or legal separation in Irvine, CA, one of the most challenging parts of family law matters is the subject of your children, including how and where they will live. Our family law attorneys at The Goldberg Legal Group understand family law matters. We know how difficult this time is for the children and the effects custody will have on their future. Your divorce attorney has the family law skills you need to help you fight for your child custody rights.
Physical and Legal Custody
Child custody is a family law matter based on the child's best interests. It considers both physical and legal custody, which covers two different aspects of the child's life. In legal custody, the parent is allowed to make decisions regarding the children's discipline, education, medical care, and religion. Physical custody refers to the actual location where the child will reside.
Defining the Best Interest of the Child
There are cases where the court must intervene to formulate a parenting plan for a divorcing couple if they cannot come to an agreement. The court bases the decision on the best interest of the child. That is formed by many factors, including but not limited to: 
How long the child has lived in a stable environment.
Where the parents' homes are located. The state of the child(ren)'s mental and physical health.
Which parent is more likely to provide a stable and consistent routine for the children.
How well the parents can communicate between themselves.
Whether there is any history of domestic violence or abuse.
If there is any substance or alcohol abuse by either parent.
If the children are old enough to express an opinion, they are allowed to do so as well.
Other Issues
Our team of family law attorneys is experienced in dealing with various issues you may also be dealing with at this time. For example, other common issues that you could encounter in your divorce and need informed legal guidance for include: 
You have high-value assets that will need to be divided.
You have some debt that also needs to be split.
You need to understand the tax concerns of your divorce.
You are faced with a contested divorce with children.
Your spouse has hidden assets that you have a right to.
You want to consider legal separation instead of the official termination of your marriage or want more information about both.
No issue is too large or small for us here at The Goldberg Legal Group. Get that heavy load off your shoulders and schedule a consultation with our lawyers today.
How Can a Family Law Attorney Help?
Regardless of the issues you are dealing with or the disputes you are involved in, if you are dissolving your marriage, you need a legal professional to look out for you. Your attorney is there to make sure that you are being treated fairly during this process. They can also negotiate on your behalf in any current or potential conflicts.
Even if you are involved in an uncontested divorce, you might not be able to foresee disputes that may arise later. Having a legal professional watching out for you if your split does get complicated can be a great source of security in these cases.
Your family law attorney is there to handle everything from reviewing your assets and giving you advice on your situation to advocating on your behalf on tough issues like child custody, alimony, and the division of property. Hiring a lawyer can also help you relieve yourself of some serious stress during this time so you can attend to your other responsibilities in this period of change.
FAQs
Q: How Much Does It Cost to Get a Divorce Lawyer in California?
A: The amount that your divorce lawyer will cost in California can vary based on a variety of elements of your case. For instance, if you need legal support with a contested divorce, you might need more of your lawyer's time and resources than if you are seeking representation with an uncontested divorce. When you initially meet with your attorney, they can help you understand what you can expect in terms of legal fees.
Q: What Is the 10-Year Rule for Divorce in California?
A: For spousal support after marriage in California, the length of your marriage is significant. If you were married for less than ten years, your spousal support will typically run for half of the length of your marriage. If it lasted more than a decade, judges often view the marriage as being a long-term one and, thus, set an indefinite period of spousal support. However, there's no official 10-year rule, and you might see a different outcome based on unique situations.
Q: Is Everything Split 50-50 in a Divorce in California?
A: If you are getting a divorce in California, you should be aware that the state considers community property to be divided equally after a split. This means that any property acquired by either you or your partner during your marriage is presumed to be divided 50-50.
However, your divorce might be a bit more complicated and result in a different split. For example, depending on your unique financial and personal circumstances, you might see a different split. Your lawyer can help you understand what to expect based on your situation.
Q: How Long Does Divorce Take in Irvine, CA?
A: The amount of time that your divorce takes in California will depend on a variety of factors, like whether it is contested and if you have to figure out child support issues. At the very minimum, you can expect your divorce in California to take six months from the time that you file to the time you complete the process.
Q: How Do I Protect Myself When Separating From My Spouse?
A: If you want to protect yourself and your assets when dissolving your marriage, you need a knowledgeable divorce lawyer representing you. It is important that you honestly disclose all your information about your finances and your property and that you express your interests and concerns to your attorney. The sooner you hire a lawyer to assist you with the necessary legal steps, the more familiar they can be with your case, which can allow them to negotiate more effectively on your behalf.
Work With an Experienced Irvine, CA, Divorce Attorney
Facing the prospect of a divorce means also facing a different future. You may have many questions about how the divorce will proceed, and you need someone you can trust to guide you during this period of turmoil. At The Goldberg Legal Group, we have the proven skills and zeal to offer you the most competent legal representation to protect you, your interests regarding your financial position, and the best living situation for your children. We have the experience with complicated divorces and post-divorce matters you need, allowing us to help provide clarity and relieve your stress during this emotional process.
Contact us today for a consultation and find out how we can help you and your family.
Irvine Neighborhoods We Serve
El Camino Real (92604) Irvine (92618) Northwood Pointe (92620) Rancho San Joaquin (92612) UC Irvine (92617) Irvine (92606) Irvine Business Complex (92614) Orchard Hills (92602) Shady Canyon (92603)
Divorce Practice Areas
730 Custody Evaluations High Asset Divorce Community Property Business Division Divorce Planning Uncontested Divorce Same Sex Divorce